Scroll sawing is a popular hobby that we Holz Brothers hold close to heart. Our firm started with the purpose of making scrolling patterns that are available to everyone – so that we can all create fantastic scroll saw patterns that are personal, individual, unique and high quality... but what use is a good pattern without a good scroll saw?
We put together this guide to finding the best scroll saw for you to take some of the hassle out of making the decision and get you back to doing what you love: scrolling! We combined our years of scroll saw art experience with our hands-on knowledge of scroll saw art to create this (not nearly exhaustive) list of our top five saws for scrolling. So if you are in the market for a new saw you have landed in the right place!
Welcome to The Holz Brothers... Now let's help you choose the perfect saw for you.
Regards
Hans Holz.
Choosing the Best Scroll Saw
Choosing whether you need a dremel scroll saw or an Excalibur scroll saw – or even just a basic model for beginners – creates lots of considerations you should take into account. Think about your budget, whether you want a flat or a pin end blade, what Steve Good recommends, what speed you want to work with, if the tilt table suits you or if you want a hand or foot control. With so many variants in play it is understandable that scroll saw projects can become confusing.
We can narrow the options down to our top 5 saws – but for more information on how to choose wisely we found this article in USA Today that covers the points well. In the meantime let's look at our preferred scroll art saws and talk a little about what makes them quite so special.
Best Scroll Saw For Beginners: The Dewalt DW788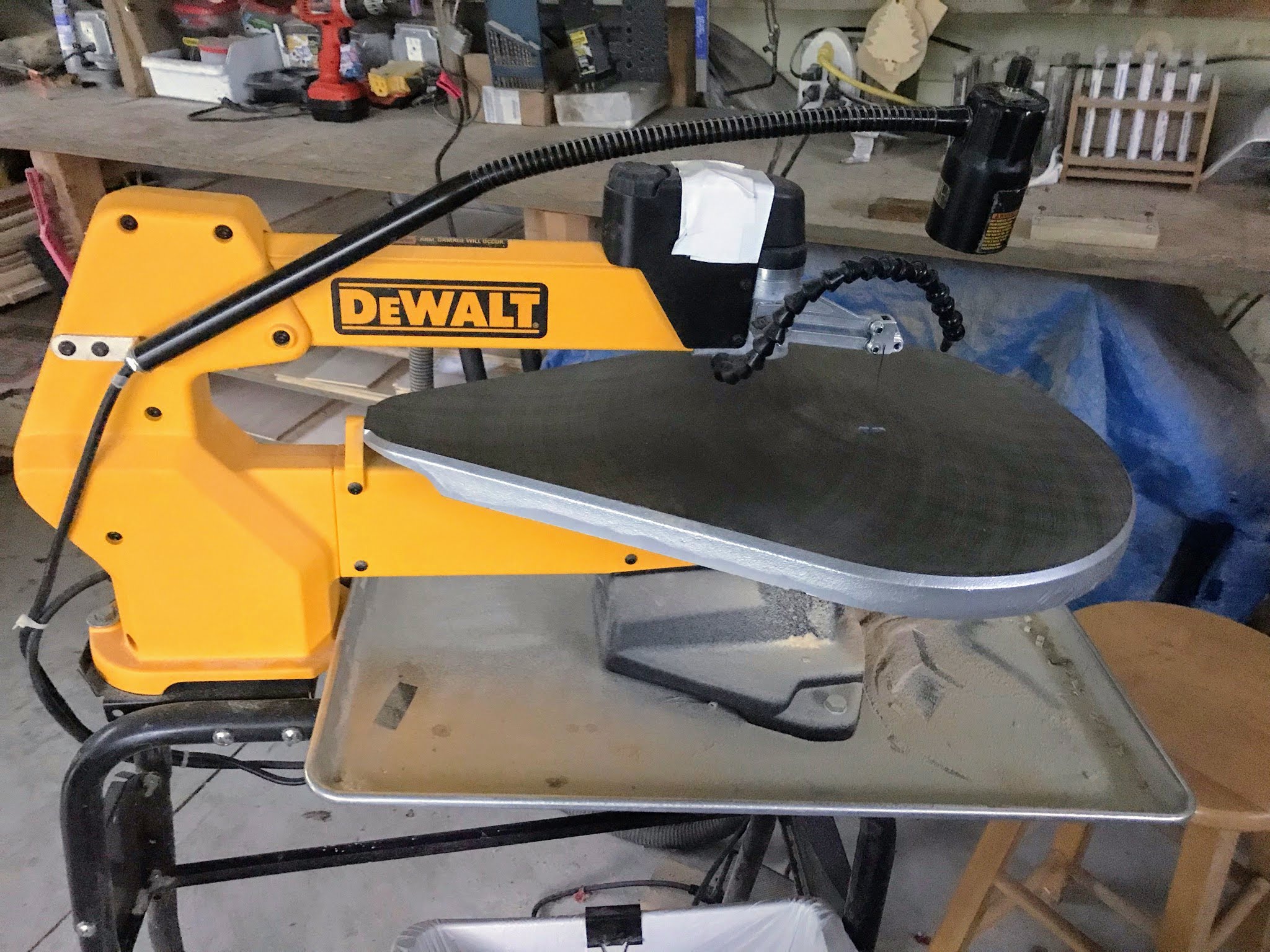 This is a very easy to use scroll saw that comes with easy to attach and detach blade clamps and also with an over sized table for added stability and support. There are a few features on this model that we love for all levels of crafting skill. Some of these include an electronic variable speed, a flexible dust blower, a blade tensioning lever and easy-lift arm.
The DW788 has a cutting depth of two inches and a stroke length of between 3 and 4 inches. The whole model is corded and weighs only 56lbs – another reason it's a great product to start out with. As an added bonus it gives a 3 year limited warranty and 1 year free servicing to give you the best possible start.
The Dewalt is also used by a lot of very talented professionals, which means that if you start with this saw, you will also be able to keep it if you decide to cut more than just for your friends and family.
Features:
Best scroll saw for beginners.
Easier blade changes than almost every other model.
Flexible dust blower for continuous use.
Scroll art projects are faster to complete with less stopping and starting.
Best Speed Control Scroll Saw: Excalibur EX-16 16'' Tilting Head Scroll Saw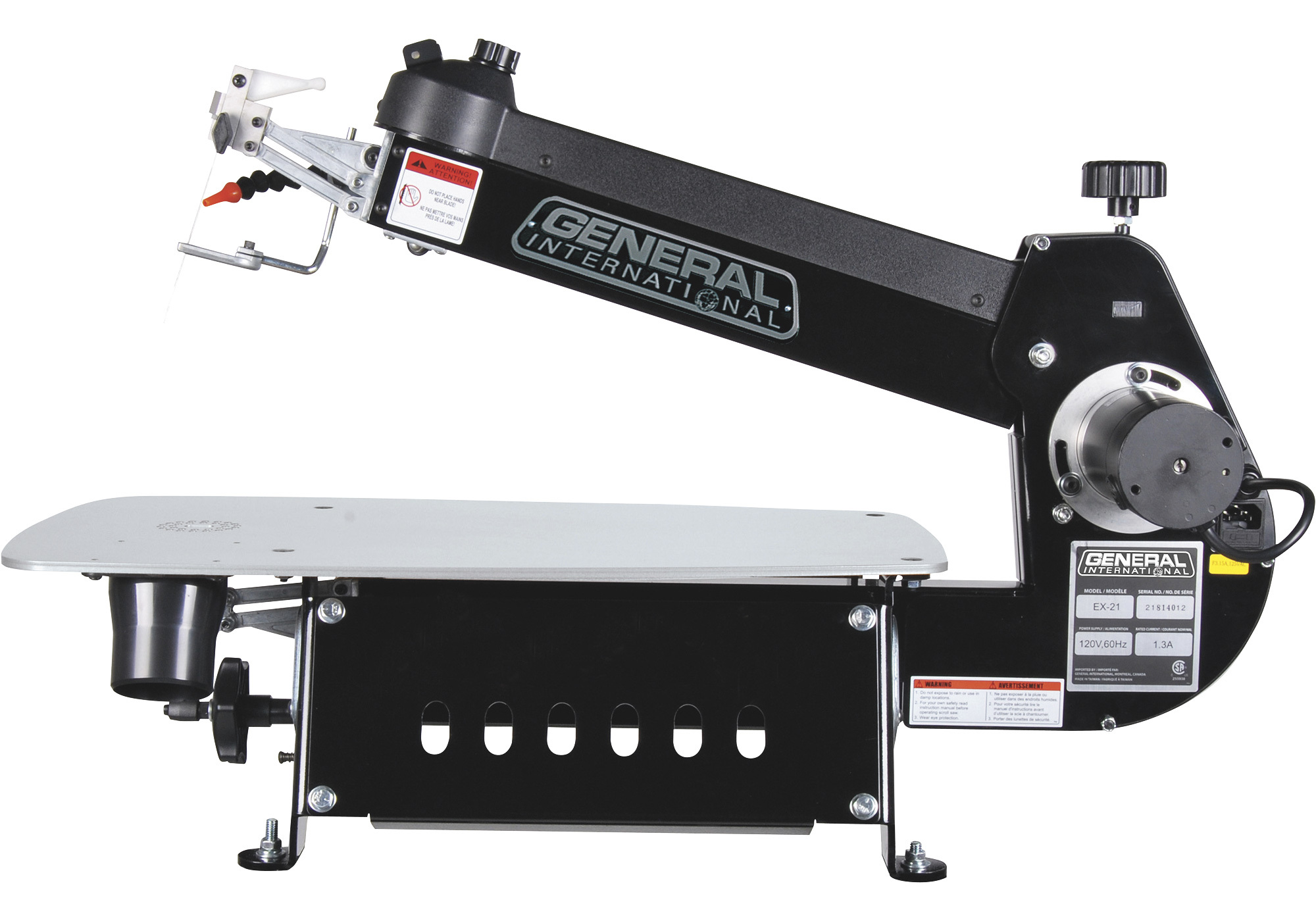 Excalibur scroll saws are some of the best known in the business. They have a reputation for creating highly functional, hard-wearing scroll saws known to be worth the money. The EX-16 looks high end – and indeed it is. With an aluminum table instead of a cast iron one, has a storage compartment in-built,  has a dust blower and is portable... but arguably the best feature is the tilting head which shifts to an angle of 45 degrees to allow for precision cutting.
This is one of Excalibur's best scroll saws but we particularly love it for the speed control pedal that allows 400-1400 speeds via a simple to operate floor pedal. This scroll saw cuts to a 2 inch capacity and does so with flair, allowing for excellent precision control. As a downside it is a little tricky to work if you happen to be a first time buyer. Practice on the Dewalt before you progress to the Excalibur.
Features:
By far the best portable scroll saw.
Tilted head feature to 45 degree angle allows for optimal cutting.
Super tight speed and tension control.
Dust blower and extractor hook up.
Very good scroll saw for intricate carving and cutting work, as well as scroll saw art.
Best Dremel Scroll Saw: Dremel MS20-01 Moto-Saw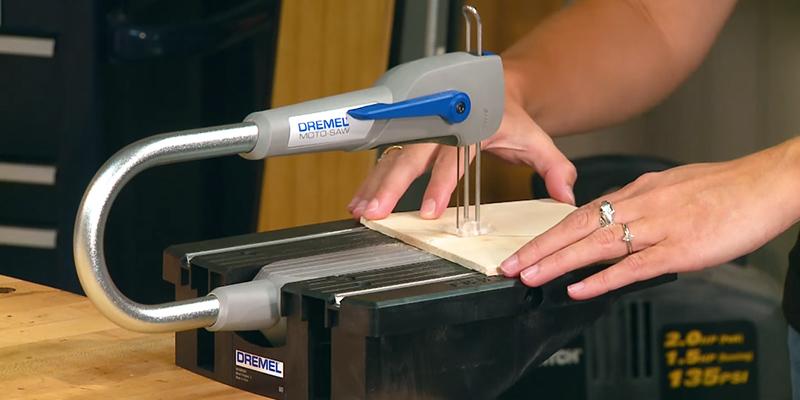 The Dremel MS20 comes from Moto-Saw, a well known company for making the dremel/scroll saw crossover. Their models are known for innovation and ease of use, making them great for all levels of experience in cutting and carving. There are a few special features of this model that we like. The first is that it is fully detachable from its corded setting to make it portable. It makes a nice table model and a nice handheld as well.
There isn't a dust blower but there is a port should you wish to connect one. It has an auto-tensioning feature which makes blade changes easier. It has good precision, only weighs a few pounds and comes with a few extra blades, a hard case and a warranty as well. It's fairly straightforward to operate, is a good tool for beginners and should make a great addition for anyone wanting a specific Dremel scroll saw with a nice detachable handset.
Features:
Hardy dremel scroll saw that should last a long time.
Good reputation for dremel saws in particular, good customer reviews.
Easily switch between handheld and table set scrolling.
Auto tension adjust to keep your blade taught.
Very affordable price for what you get.
No dust blower included with your purchase, also lacks a miter gauge although you can buy both separately.
Best Scroll Saw On A Budget: the WEN 3921 16 inch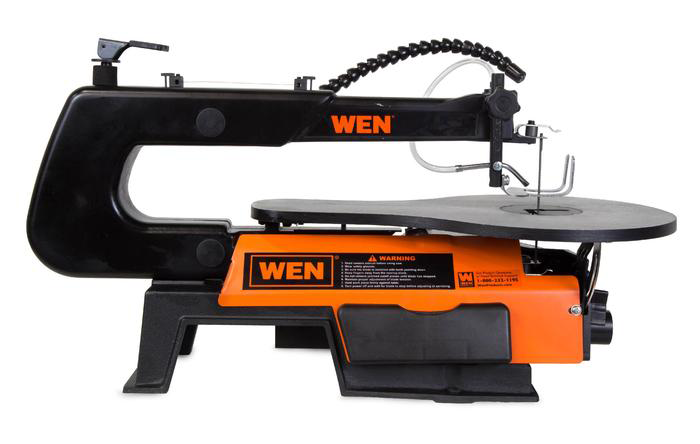 We love this model because it not only takes blades in both directions but it also uses both pinned and pinless blades, making it doubly useful to professionals. To make blade changes swifter it come with a thumb screw blade adapter and three spare blades to get you started. The WEN has a 16 x 11 inch table and a solid cast iron base for added durability.
The table bevels, cuts to 2 inches deep and features a flew light so you can keep an up close eye on your work. The variable speed settings go up to 1600 but it does cost that little bit more than some models. It has a foot lock clamp for added safety and a dust port, although you will need to buy the blower separately. Easily the best part of this whole model though, is the option to cut with two blades at once.
Features:
Dual blade use as well as dual blade systems (pinned and pinless).
It sports tool free blade changes.
The WEN is built to last and firmly set in its cast iron base.
Good for intricate work and for multi tasking cuts.
Comparatively lightweight, good quality product.
Blower port is not much use, a separate attachment should be ordered.
Best Overall Scroll Saw: the Delta Power Tools 40-694 20 inch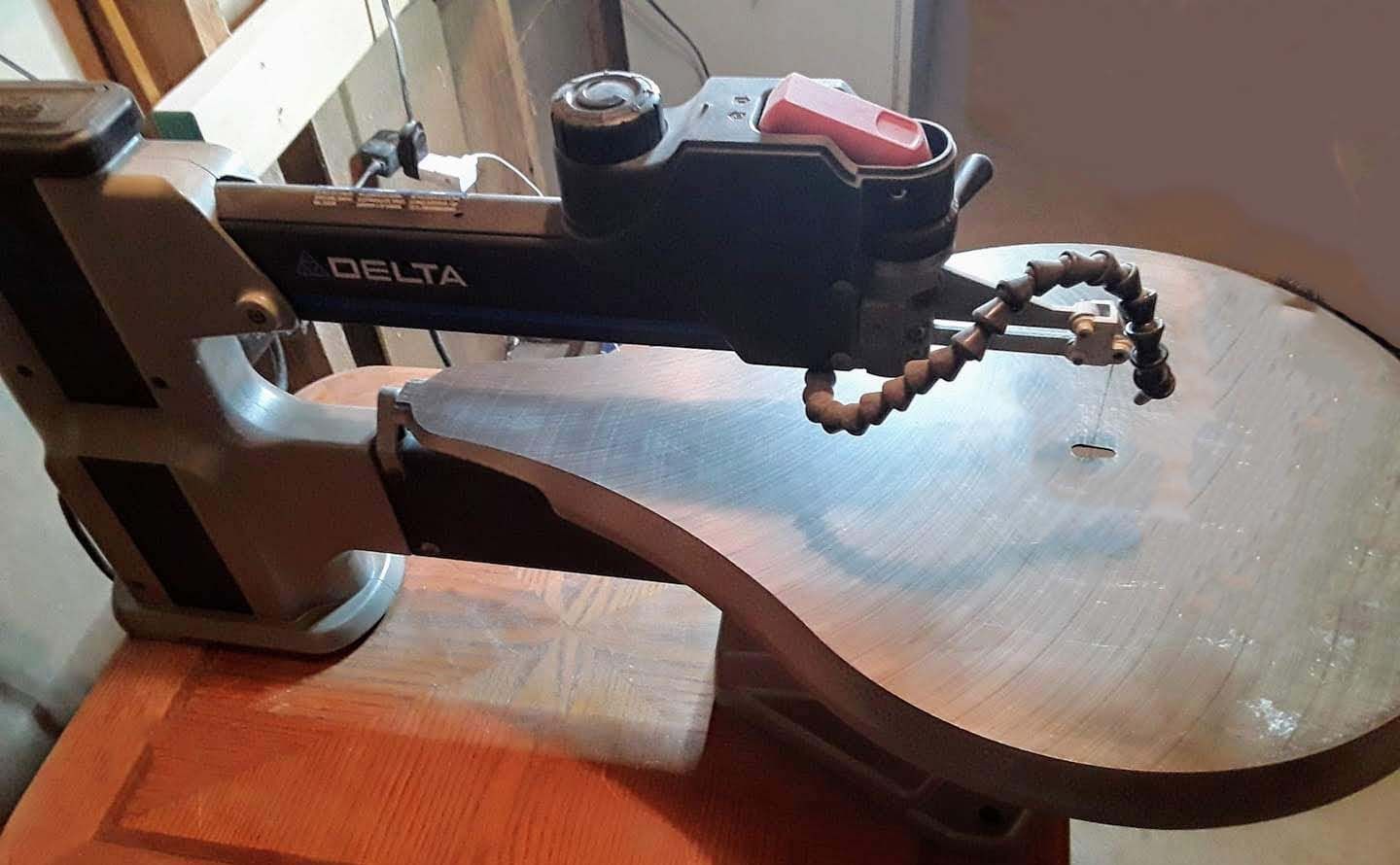 The best scroll saw for cutting a pattern has got to be the Delta. With over 90 years of experience in creating power tools this is a brand of high tech quality that can't be denied. Their drive is towards better precision and better technological application of their tools, so you already know that any scroll saw they design is going to be bigger, better and badder than the last.
This scroll saw has the capacity to go as high as 1750 SPM, making it the fastest saw in our summary. It is exceptionally quiet with low vibration and allows you to work on intricate scroll saw patterns without feeling frustrated. You can buy a foot pedal for it instead of the hand control. The table bevels to a 45 degree angle, the blades don't require a tool to replace and the whole product is suited for professional use.
Features:
Quiet operation with low vibration and good stability.
Speed of up to 1,750 SPM and the option to control via foot pedal.
Lifting and locking upper arm to aid with smooth blade replacement.
Very good model for both precision work and speed cutting.
Can be a little tricky to set up for the non-advanced user.
Doesn't have a vacuum or dust port.
Our Recommendations
We here at Holz Brothers want you to choose the best scroll saw for you – and the perfect way to do so is to identify the areas you need the most out of and choose a saw with features to match. If you still find yourself confused then feel free to join The Holz Brothers facebook community, Hans and I will be happy to help!
Good luck out there. We hope your perfect scroll saw is well within your grasp.
Regards
Helmut Holz